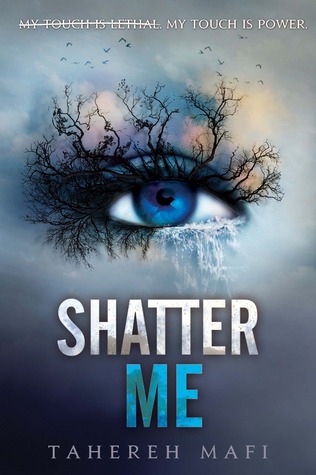 Book:
Shatter Me (Shatter Me #1)
Author:
Tahereh Mafi
# of Pages:
248 (ebook)
Challenge:
2014 TBR Pile Reading Challenge, 2014 Ebook Challenge, 2014 Dystopia Reading Challenge
Rating:
4.5 stars
Goodreads Summary:
Juliette hasn't touched anyone in exactly 264 days.

The last time she did, it was an accident, but The Reestablishment locked her up for murder. No one knows why Juliette's touch is fatal. As long as she doesn't hurt anyone else, no one really cares. The world is too busy crumbling to pieces to pay attention to a 17-year-old girl. Diseases are destroying the population, food is hard to find, birds don't fly anymore, and the clouds are the wrong color.

The Reestablishment said their way was the only way to fix things, so they threw Juliette in a cell. Now so many people are dead that the survivors are whispering war – and The Reestablishment has changed its mind. Maybe Juliette is more than a tortured soul stuffed into a poisonous body. Maybe she's exactly what they need right now.

Juliette has to make a choice: Be a weapon. Or be a warrior.
Why? Why? WHY did I wait so long to read this book?! It was absolutely amazing!
The thing that made this book for me was the writing. Tahereh Mafi's writing is beautiful. It's vivd and poetic and addictive. I envy her talent.
I loved Juliette. She's smart, brave, and manages to maintain a sense of positivity despite all the hell she's been through. Her touch is deadly. She wants to prove to the world that she isn't a monster, but The Reestablishment is determined to use her as a weapon.
Adam is kind and supportive and does everything within his power to help Juliette. Warner is manipulative and controlling and also a bit creepy. Though I have a feeling there's more to him than meets the eye.
I would have liked to see a bit more action. But, other than that, I loved this book and can't wait to read the rest of the series.