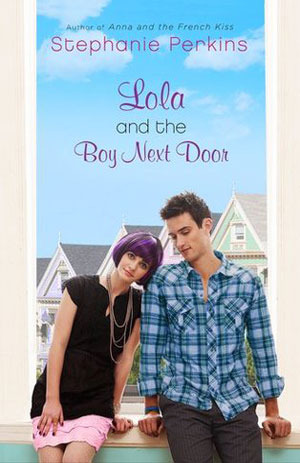 Book:
Lola and the Boy Next Door (Anna and the French Kiss #2)
Author:
Stephanie Perkins
# of Pages:
338 (Paperback)
Challenge:
2014 TBR Pile Reading Challenge
Rating:
4 stars
Goodreads Summary:
Budding designer Lola Nolan doesn't believe in fashion...she believes in costume. The more expressive the outfit--more sparkly, more fun, more wild--the better. But even though Lola's style is outrageous, she's a devoted daughter and friend with some big plans for the future. And everything is pretty perfect (right down to her hot rocker boyfriend) until the dreaded Bell twins, Calliope and Cricket, return to the neighborhood.

When Cricket--a gifted inventor--steps out from his twin sister's shadow and back into Lola's life, she must finally reconcile a lifetime of feelings for the boy next door
First off, I have to say that I liked this much more than Anna and the French Kiss.
Lola was such a fun character with her love of costume design and not being afraid to express her individuality. Lindsey is a great friend to Lola. She was always there when Lola needed her most. I loved Lola's dads. They were very supportive of her costume designing, but they were also strict, especially when it came to boys.
Lola's boyfriend, Max, was a total jerk. I just didn't get what Lola saw in him. He treated Lindsey like crap and I was mad at Lola for not defending her. Cricket, on the other hand, is very sweet and kind. It was easy to see why Lola liked him so much.
Anna and St. Clair appear many times in this book and I liked seeing them together from Lola's perspective.
I really enjoyed this book. It was cute, funny, and unputdownable.