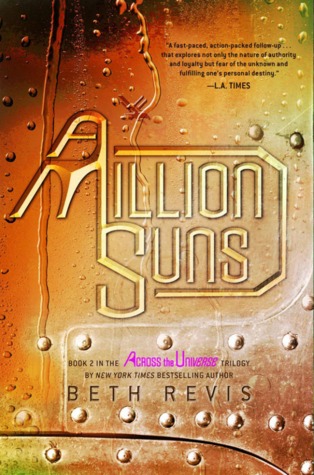 Book:
AMillion Suns (Acroos the Universe #2)
Author:
Beth Revis
# of Pages:
404 (paperback)
Challenge:
2015 TBR Pile Reading Challenge
Rating:
4.5 stars
Goodreads Summary:
GODSPEED WAS FUELED BY LIES. NOW IT IS RULED BY CHAOS.

It's been three months since Amy was unplugged. The life she always knew is over. Everywhere she looks, she sees the walls of the spaceship Godspeed. But there may just be hope: Elder has assumed leadership of the ship. He's finally free to act on his vision--no more Phydus, no more lies. But when Elder learns shocking news, he and Amy must race to discover the truth behind life on Godspeed, all the while dealing with the love that's growing between them and the chaos that threatens to tear them apart.

Beth Revis catapulted readers into the far reaches of space with her New York Times bestselling debut, Across the Universe. In A Million Suns, Beth deepens the mystery with action, suspense, romance, and deep philosophical questions. And this time it all builds to one mind-bending conclusion: THEY HAVE TO GET OFF THIS SHIP.
The one big difference between this book and the Across the Universe was that I grew to really like Elder. In AtU I found to to be a bit annoying, but now I like him as much as Amy.

A Million Suns seemed darker AtU and there was definitely a lot more tension and mystery what with Elder taking on the role of leader and chaos breaking out everywhere. Also, there is a big secret that Amy and Elder unearth about Godspeed. While there was so much suspense building up to the revelation of this secret, the secret itself was kind of underwhelming.

AMS was pretty fast-paced, and I enjoyed getting to know more about Elder and Amy and watching their relationship grow. Even with the slight disappointment of the big secret, this was still a great read.