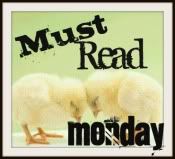 Must Read Monday is a new meme created by

Jenna from

Fans of Fiction. This is a fun way to recommend books to other bloggers by using an acrostic puzzle based on the week's theme. It helps bloggers learn more about the book. This week's theme is a favorite romance (any book at all that has a great romance in it).
heart Wrenched by her betrayal
He wrote songs about the pain
thrEe years have passed since he has seen her
no woRds have been spoken
only silEnce
he iS in new york preparing to go on tour
little does He know that he is about to see her again
to get a sEcond chance
one Whole night is all they have
to rekindlE their love, to resolve the pain
when the morNing comes, they must make a decision
will they stay Together or go their separate ways?
This is the sequel/companion novel to If I Stay by Gayle Forman. I love doing these puzzles! They are so much fun!!