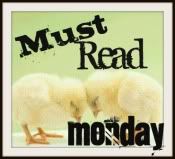 Must Read Monday is a new meme created by

Jenna from

Fans of Fiction

. This is a fun way to recommend books to other bloggers by using an acrostic puzzle based on the week's theme. It helps bloggers learn more about the book. This week's theme is fantasy (any book with fantastical elements).
senT to a new school every year
with adHd and dyslexia
pErcy just can't fit in
a class fieLd trip goes awry
and in an Instant
his life chanGes
he is taken to camp Half blood
where he learns thaT gods and goddesses
do iNdeed exist
and there are other kIds just like him
zeus's master lightNing bolt is missing
and percy is deleGated to find it
and must return iT by the summer solstice
he is accompanied by annabetH, daughter of athena,
and grover, his best frIend
they emark on the quEst hoping they'll find the bolt
beFore it's too late
The book is so much better than the movie.