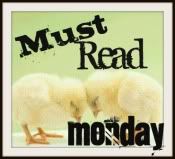 Must Read Monday is a new meme created by

Jenna from

Fans of Fiction. This is a fun way to recommend books to other bloggers by using an acrostic puzzle based on the week's theme. It helps bloggers learn more about the book. This week's theme is a favorite contemporary.
J
ellicoe road is where it began
fiv
E
kids came together and became the best of friends
their story is to
L
d alongside another
tay
L
or is made the school leader
for the r
I
tual game
played against the
C
adets
and the t
O
wnies
the t
E
rritory wars
she discovers that her f
R
iend hannah has secrets
and starts to fall for j
O
nah, a cadet
as the secrets slowly st
A
rt to unravel
the two stories colli
D
e and become one
This was a bit tricky for me. I hope it makes sense.