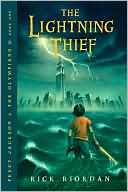 I seem to have fallen into the pattern of reading series this year. It was truly unintentional. I have a list of all books I wanted to read and somewhere along the way I added more.
I guess it all started when my friend gave me The Lightning Thief for my birthday. As soon as I finished it, I just HAD to know what happened next. Naturally, I went and bought the rest of the series as soon as I could. All five books were great! I actually couldn't believe that I hadn't read it sooner. But I am glad that I did. I enjoyed learning about Greek mythology. I wish I had had the opportunity to take a class on it.
I also have become, well not obsessed, but greatly fascinated by the writings of James Patterson. His Michael Bennett series is amazing. It is tension-building and even funny at times. I just could not put the books
down. I finished all four of them in two weeks, which is pretty fast for my standards.
I am currently reading Patterson's Women's Murder Club series. I am only on the 7th book out of 10, but I am hoping to finish them by the end of the month.
So, until next time, I bid you all happy reading!