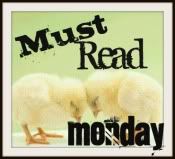 Must Read Monday is a new meme created by

Jenna from

Fans of Fiction. This is a fun way to recommend books to other bloggers by using an acrostic puzzle based on the week's theme. It helps bloggers learn more about the book. This week's theme is favorite book you were forced to read in school.
Firemen of the future commit
Houses that contain books trying to
Rid the world of
Every last one.
Never has Guy complained about his job. in fact
He enjoys watching the books burn until an
Encounter with a teenage girl
Intrigues him enough to take a closer look at books
Turning him against views he once supported
4
5
1